Description
OVERVIEW
Powerful Mainstream Solution For Modern Businesses
The CAP1200 is a powerful wireless solution designed to meet the needs of modern mainstream businesses with the latest IEEE 802.11ac technology for wireless speeds up to 1200Mbps. Industrial-grade performance and build quality combined with user-friendly operation, super-fast wireless speed, an extensive feature set and a practical, ceiling-mount design make an ideal dual-band solution for enterprise environments.
For businesses that demand security, flexibility and speed – the Edimax Pro series has a wide range of potential applications from office environments to schools, campuses, hotels and hospitals. High-density capacity for up to 100 simultaneous users is ideal for BYOD (Bring Your Own Device) workplaces or other environments with a high volume of users and wireless devices. Multiple SSIDs can be configured for different departments or user groups and a built-in RADIUS server provides additional verification with a scalable AP array architecture for central management of multiple access points. Fast roaming for seamless transitions between access points, Power over Ethernet support (PoE) and an intuitive web-based management interface provides flexibility for deployment and extensive management options for company MIS departments and network administrators.
When performance and security are critical for your business, you need products that are engineered for your industry. The Edimax Pro series is designed to help your business and provide the connectivity that you rely on every day, with safety and effectiveness guaranteed.
KEY FEATURES
802.11AC Dual-Band High Speed: IEEE 802.11ac concurrent dual-band  with 1200Mbps wireless speed.
Easy Installation: Ceiling-mount & T-rail mount design with easy installation kit.
Compact & Durable Housing: Ultra slim design with UL94-5VB flame-retardant plastic housing.
Designed for High Density Usage: Supports up to a hundred users simultaneously, ideal for crowded environments and BYOD (Bring Your Own Device) workplaces.
Multiple SSIDs for Security Management: Supports up to 32 SSIDs (16 x 2.4GHz & 16 x 5GHz) ideal for multiple departments, user groups, customers or guests.
Fast Roaming: Roams smoothly between APs without lag or interruption, ensuring top performance for video and voice streaming applications.
Wide Coverage & High Sensitivity: Adjustable RF output power and high receiver sensitivity for wide coverage across large spaces.
Seamless Mobility: 1.5x greater coverage than typical APs for blanket coverage to ensure seamless connectivity for Wi-Fi devices across enterprise environments.
Power over Ethernet: Supports IEEE 802.3af PoE as well as included power adapter.
Built-In RADIUS Server: With management for up to 256 user accounts.
Business Environments: Mainstream choice for SMBs. Suitable for a wide range of commercial applications such as offices, hotels, meeting rooms, schools, campuses, resorts, retail and others.
Central Management: Edimax Pro Network Management Suite (NMS) , easy and Intuitive web-based central management suite, supports AP array architecture.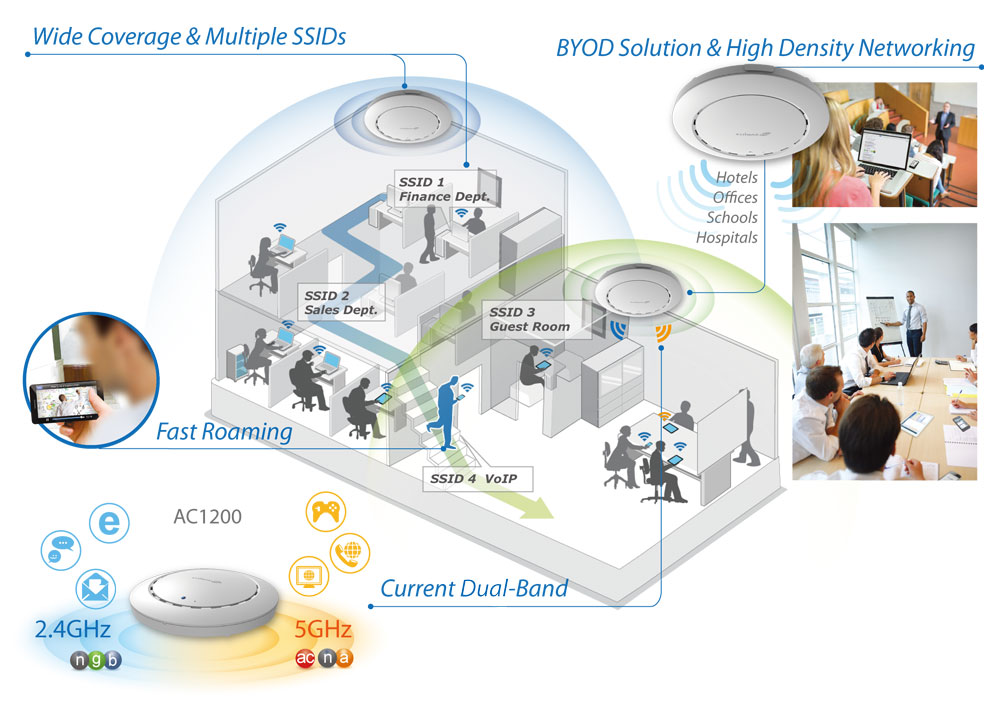 High Performance Design with High-Speed 1200Mbps Dual-Band 11ac
State-of-the-art IEEE 802.11ac wireless technology delivers the Giga-fast  Wi-Fi speeds that today's fast-moving modern business environments demand. And simultaneous 2.4GHz & 5GHz dual-band coverage means maximum flexibility for mobile-centric business productivity applications. Speeds up to 300Mbps on the 2.4GHz band and 867Mbps on the 5GHz band can handle even the most bandwidth intensive tasks, perfect for audio, video and voice applications and significantly faster than traditional 802.11n Wi-Fi. Additionally Edimax Pro series products feature other high-performance design features such as solid capacitors for significantly longer lifespans than traditional non-solid alternatives, generating less heat and delivering increased stability. Durable, robust and ready for business environments.​
​Wide Coverage & Multiple SSIDs
With adjustable RF output power and high receiver sensitivity, Edimax Pro access points are equipped to provide wide coverage where it's needed the most. Suitable for large spaces across office floors, shop floors, hospital wards, or conference rooms, get the wireless coverage that staff and systems need to operate efficiently. Keep every corner of your business connected and differentiate user groups, departments or guests with up to 32 separate SSIDs with independent security. Wide, accessible Wi-Fi coverage with strong security to protect sensitive company information and supervise access to internal networks.
BYOD Solutions & High Density Networking
Bring Your Own Device (BYOD) is becoming an increasingly commonplace company trend in offices and enterprise environments worldwide. Employees are using their own smartphones, tablets and laptops with the latest cloud-connected productivity apps to get things done, and traditional 2.4GHz is crowded, so most of these devices need or support high-speed 5GHz Wi-Fi. And in offices, hotels, schools or other densely populated environments, access points need to cope with a high volume of users connecting to the network at any time, whether it's customers or employees. Edimax Pro solutions support the latest 802.11ac 2.4GHz & 5GHz dual-band Wi-Fi along with high-density capacity to support up to a hundred users simultaneously, ideal for BYOD workplaces and a large number of wireless devices.
Seamless Mobility
Typical wireless access points can effectively cover a 25m – 30m radius under normal usage. Now with the technological advances in Edimax Pro access points, we can extend effective coverage approximately 1.5x further, eliminating Wi-Fi dead zones completely and providing blanket coverage across enterprise environments. Wireless devices can stay seamlessly connected in environments where connectivity may be a critical component of efficiency and productivity, and benefit from mobility with high-speed connectivity across a range of wireless devices: smartphones, tablets and computers, throughout an entire organization.
Hotels, Offices, Schools and Hospitals
Edimax Pro series access points, with high-speed 11ac high-density networking for up to 100 simultaneous users, are ideal for multi-tenant unit buildings, hotels, resorts, hospitals, campuses, conventions or anywhere with large-scale network use, with safety and effectiveness guaranteed
Rogue AP Detection & Wireless Isolation
Rogue access point detection can identify any unauthorized SSIDs which may have been installed in an otherwise secure network with malicious intent, and L2 wireless isolation provides wireless security.
Easy and Intuitive Central Network Management Suite (NMS)
Edimax Pro NMS (Network Management Suite) is a web-based wireless network management system. Company MIS departments can plan and manage Edimax Pro access points' powerful functionality according to their office space using an easy, remote web-based interface which includes a dashboard, map view, traffic statistics and wireless client list for network-wide remote administration. RADIUS settings, WLAN group settings, access control, guest network settings and firmware upgrades can all be managed centrally from a single location to reduce network downtime, aid troubleshooting and optimize network performance. Zone plans and setup wizards are also available for expanding and managing large networks with multiple access points.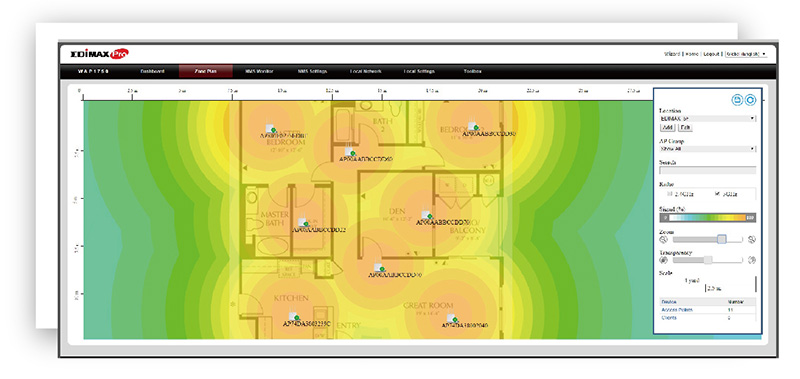 AP Array
Edimax Pro Network Management Suite (NMS) supports AP array architecture, which enables the central management of a group of access points. NMS can be installed on one access point and support up to 8 Edimax Pro access points with no additional wireless controller required, reducing costs and facilitating efficient remote AP management. Access points can be deployed and configured according to requirements, creating a network powerful network architecture which can be easily managed and expanded in the future, with an easy to use interface and a full range of functionality for company MISs.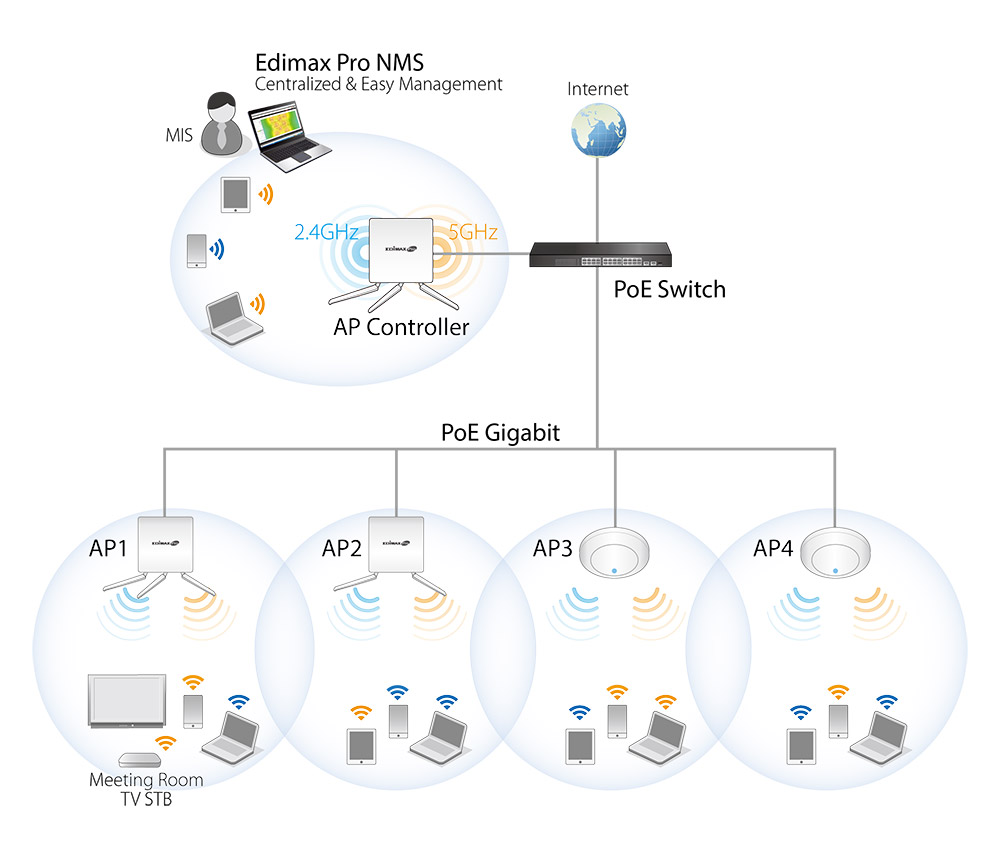 Easy Installation Kit
Ceiling-mount & T-rail mount design with easy installation kit.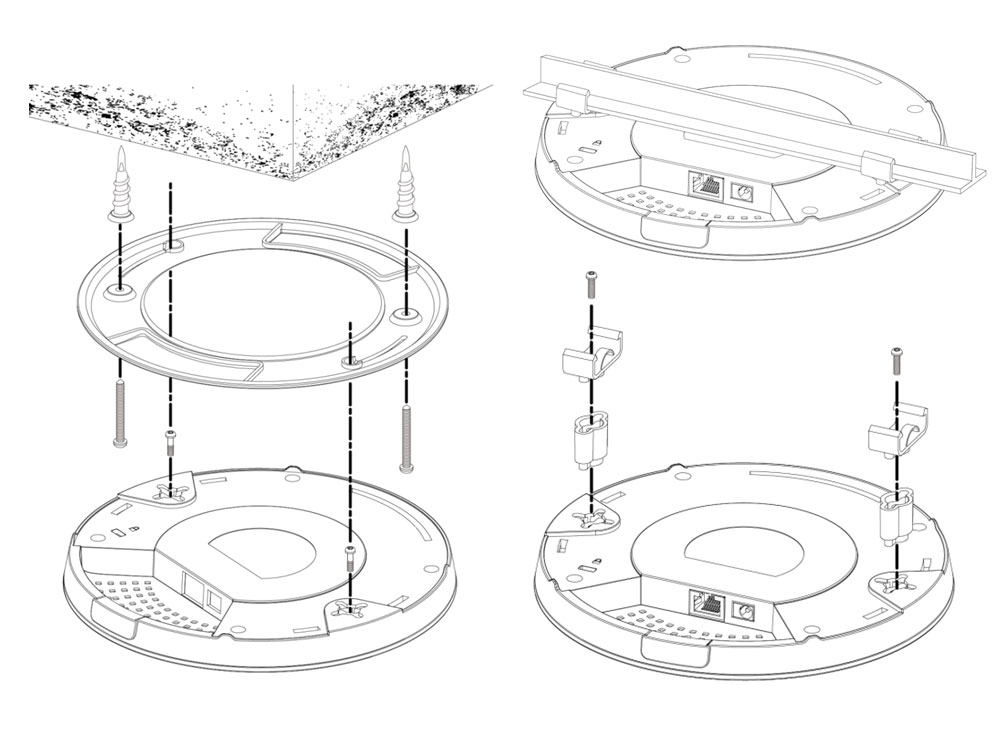 SPECIFICATIONS
HARDWARE
LAN Interface
Giga x 1
PoE
802.3af (Supports 802.3at)
Antenna
Type: 4 x Built-In PIFA (2 x 2.4GHz, 2 x 5GHz)
Gain: 2.82dBi (2.4GHz), 4dBi (5GHz) Max.
Power
DC: 12V / 1A
802.3af (PoE Injector Optional)
Dimensions
17.6 (D) x 3.2 (H) cm
Weight
305.7g
Power Consumption (Full Loading)
11W
Mounting
Ceiling
WPS/Reset
Y
LED Indicator
1. Power LED
2. Diag LED
Environmental Conditions
Operating Temperature: 0°C (32°F) to 40°C (104°F)
Operating Humidity: 90% or Less
UL94-5VB Flammability Rating
Power Saving
802.3az
Internal Buzzer
Y
WIRELESS
Standard
802.11 a/b/g/n/ac Concurrent Dual-Band
No. of Radios
2
Max. Output Power (dBm)
2.4GHz: 26(±2)dBm
5GHz: 26(±2)dBm
Receiver Sensitivity
≤ -95dBm
Transmit Power (mW)
400mW / 400mW
Certification
CE / FCC
Fast Roaming
Y
Number of SSIDs
16 (2.4GHz) + 16 (5GHz)
PERFORMANCE
Maximum Data Speed
300 + 867Mbps
Concurrent Clients
Up to 50 Per Radio
RF SPECIFICATONS
Frequency Band

•Radio Ⅰ: 802.11b/g/n 2.412~2.484(GHz)
•Radio Ⅱ: 802.11a/n/ac 5.18~5.24(GHz), 5.745~5.825(GHz)
(The supported frequency band is restricted by local regulations.)

Operation Channels

•2.4GHz : US/Canada 1-11 / Europe 1-13 / Japan 1-14
•5GHz : Country dependent for the following ranges: 36, 40, 44, 48, 149, 153, 157, 161, 165

Transmit Power

•802.11b
23dBm@1Mbps
23dBm@2Mbps
23dBm@5.5Mbps
23dBm@11Mbps
•802.11g
23dBm@6Mbps
23dBm@9Mbps
23dBm@12Mbps
23dBm@18Mbps
23dBm@24Mbps
22dBm@36Mbps
20dBm@48Mbps
19dBm@54Mbps
•802.11gn (2.4G)
26dBm@MCS0/8
25dBm@MCS1/9
25dBm@MCS2/10
25dBm@MCS3/11
24dBm@MCS4/12
23dBm@MCS5/13
22dBm@MCS6/14
22dBm@MCS7/15

•802.11a
23dBm@6Mbps
23dBm@9Mbps
23dBm@12Mbps
23dBm@18Mbps
23dBm@24Mbps
22dBm@36Mbps
20dBm@48Mbps
19dBm@54Mbp
•802.11an(5G)
26dBm@MCS0/8
25dBm@MCS1/9
25dBm@MCS2/10
24dBm@MCS3/11
24dBm@MCS4/12
23dBm@MCS5/13
22dBm@MCS6/14
21dBm@MCS7/15
•802.11ac
26dBm@MCS0
25dBm@MCS1
25dBm@MCS2
24dBm@MCS3
24dBm@MCS4
23dBm@MCS5
22dBm@MCS6
21dBm@MCS7
19dBm@MCS8
18dBm@MCS9

Receiver Sensitivity

•802.11b
≤-95dBm@1Mbps
≤-90dBm@11Mbps
•802.11g
≤-91dBm@6Mbps
≤-75dBm@54Mbps
•802.11gn (2.4G)
≤-93dBm@MCS0
≤-73dBm@MCS7
≤-90dBm@MCS8
≤-70dBm@MCS15

•802.11a
≤-89dBm@6Mbp
≤-72dBm@54Mbps
•802.11an(5G)
≤-92dBm@MCS0
≤-71dBm@MCS7
≤-89dBm@MCS8
≤-68dBm@MCS15
•802.11ac
≤ -86dBm@MCS0
≤ -61dBm@MCS9
≤ -83dBm@MCS10
≤ -58dBm@MCS19

SECURITY
Encryption
WEP / WPA / WPA2
Wireless L2 Isolation
Y
Station Isolation
Y
IEEE 802.1x Authenticator
Y
EAP Authentication
PEAP
Hidden SSID
Y
MAC Address Filter
Y
Wireless STA
Y
Rogue AP Detection (w/ Edimax Pro Network Management Suite (NMS))
Y
SOFTWARE
Wireless Mode
AP / WDS AP / WDS Bridge
802.1q VLAN
Y (VID = 1-4095)
Spanning Tree
RSTP
QoS
WMM (802.11e)
Max Associated Station No.
Pass-Through
IPv6 and VPN (PPTP, L2TP/IPsec)
DSCP (802.1p)
Y
Multicast Rate up to 54Mbps
Y
MANAGEMENT
Deployment
Standalone
Managed by Edimax Pro NMS
Configuration
HTTP / HTTPS
SNMP v1, v2c, v3
CLI (Telnet, SSH)
RADIUS Server
Built-In
Auto-Channel
Y
Private MIB
Y
*Maximum performance, actual data rates, and coverage will vary depending on network conditions and environmental factors.
*Actual viewing resolution and frame rate of network cameras depend on connection speed.
*Product specifications and design are subject to change without notice.